News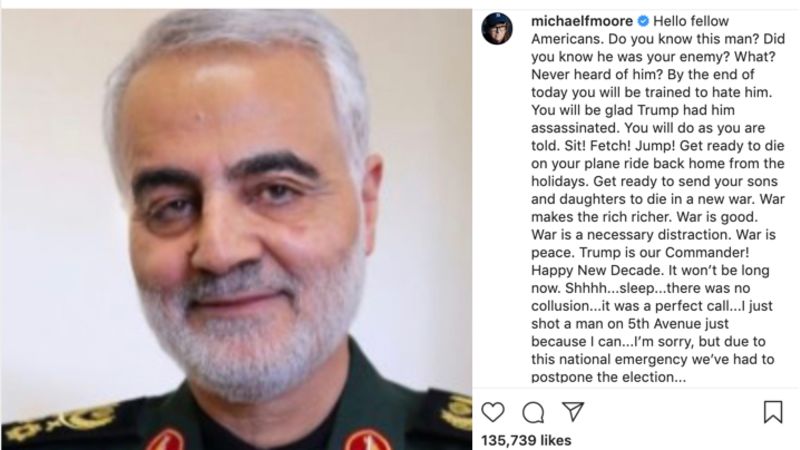 Hello fellow Americans. Do you know this man? Did you know he was your enemy? What? Never heard of him? By the end of today you will be trained to hate him. You will be glad Trump had him assassinated. You will do as you are told. Get ready to send your sons &daughters off 2 war (Tweet from Michael Moore)
Trump's reckless decision to attack Iran moves us to the very brink of an unnecessary war with Iran.
Sign the petition on this page:
Congress must act immediately to stop a catastrophic war with Iran. Political leaders must stand up to Trump and demand de-escalation and a massive, immediate diplomatic intervention to prevent the worst in Iran.
We will share the growing demands for de-escalation and diplomatic intervention with our allies in Congress.
Continue reading
»
Each week, The Times is bringing you the latest political data and analysis to track how the 15 Democratic presidential candidates are doing and who is breaking out of the pack in the historic race for the 2020 nomination.
Continue reading
»
Political parties, politicians, leaders of people's movements and academics have sharply condemned the civic-military coup carried out yesterday against the government of Bolivian president Evo Morales. Morales and his vice-president Álvaro García Linera, as well as ministers and other members of his government, were cornered into resigning after the right-wing opposition scaled up acts of violence and intimidation against them and supporters of the Movement Towards Socialism (MAS) and their family members.
João Pedro Stedile, member of the National Board of the Landless Rural Workers' Movement (MST) of Brazil, termed what happened yesterday in Bolivia as "the practical application of what we read in the book 'Hybrid Wars' [by Andrew Korybko], which is the strategy of US capital to overthrow governments. They already tried to apply this in Ukraine, Venezuela, Colombia, Peru, and Ecuador."
Monica Bruckmann, academic and researcher at the Federal University of Rio de Janeiro, spoke at the Peoples' BRICS Summit and contextualized what happened in Bolivia as part of the crisis of neoliberal capitalism. She explained, "The neoliberal project does not have the conditions to maintain itself in these times. The right-wing is increasingly nervous and desperate. What happened yesterday in Bolivia is a return to the old style military coups of the 20th century."
Continue reading
»